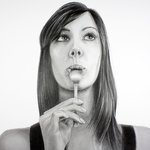 Claire Pinatel
Artist Statement
In love with images and colors since I was a child, I've began my art studies when I was fifteen years old in a creative art High school. I've improved my artistic and plastic skills by coursing 2 Fine Arts colleges: école des Beaux-Arts d'Orléans, in France, and Facultad de Bellas Artes of Bilbao, in Spain.
Counting on two graphic design degrees, it took me a few years working in agencies in France and Germany before I started to exclusively concentrate on painting in 2008. Influenced for many years by graphic design, packaging, typography, video, photography and advertising, my paintings are a hodgepodge of glued papers, stencils, flying letters, standardized faces and wallpaper patterns. Swinging between computer and canvas, all means are great to express all forms of contemporary saturation: visual pollution, overpopulation, overloading lives we go thru daily.
After four years abroad between Spain, Germany and Bolivia, I decided to fly back to France in 2009 to settle in the middle of Bordeaux, the biggest French vineyard, where I've been finding inspiration to develop my painter carrier and skills.
Influences
From Dominique-Auguste Ingres to Mark Ryden, my influences are spread in time from classic French and Italian Renaissance until the American Pop Surrealism, passing by the Art Nouveau and the plastic expression of contemporary Street Art.
Read more
Claire Pinatel's Store
Filter