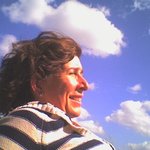 Claire Pinney
My artwork commentates on some of the little absurdities and ironies of the human condition. A sardonic and satirical edge to the work often emerges in the process. In essence I draw and paint poignant, sometimes funny, little pictures that tell a story of our time. They can be a little quirky and sometimes gently subversive. Cartoon characters provide a degree of simplicity, perhaps naïvity to the work, but there is occasionally a thoughtful narrative lurking. I enjoy portraying characters from my imagination in places of familiarity, enabling me to explore the hidden pockets of unknowing in the midst of the ordinary and everyday. Claire Pinney joined Society6 on April 1, 2014
More
My artwork commentates on some of the little absurdities and ironies of the human condition. A sardonic and satirical edge to the work often emerges in the process.
In essence I draw and paint poignant, sometimes funny, little pictures that tell a story of our time. They can be a little quirky and sometimes gently subversive. Cartoon characters provide a degree of simplicity, perhaps naïvity to the work, but there is occasionally a thoughtful narrative lurking.
I enjoy portraying characters from my imagination in places of familiarity, enabling me to explore the hidden pockets of unknowing in the midst of the ordinary and everyday.
Claire Pinney joined Society6 on April 1, 2014.
Claire Pinney's Store
57 results
Filter