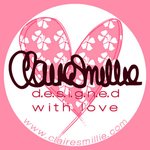 Claire Smillie
There could be no better job in the world for the girl who has grown up her whole life inspired her by the Creative Arts. From mixed media, photography, scrapbooking, watercoloring and everything in between, the creative world is where she needs to be and nothing can make her more passionate than the beautiful (and sometimes crazy) world of surface pattern design. Her name…Claire Smillie…she loves to design and these designs all need a little home of their own. There are so many places they would suit jumping from their digital creation to Stationary, Phone cases, Laptop skins, Prints, Wallpapers, Homeware, Greetings Cards, Gift Wrap and more. Claire currently works on a freelance basis and loves the opportunity she has to work with a range of exciting and innovative companies. For more information on Claire and to view her extensive portfolio please visit www.clairesmillie.com. Claire Smillie joined Society6 on April 27, 2012
More
There could be no better job in the world for the girl who has grown up her whole life inspired her by the Creative Arts. From mixed media, photography, scrapbooking, watercoloring and everything in between, the creative world is where she needs to be and nothing can make her more passionate than the beautiful (and sometimes crazy) world of surface pattern design.
Her name…Claire Smillie…she loves to design and these designs all need a little home of their own. There are so many places they would suit jumping from their digital creation to Stationary, Phone cases, Laptop skins, Prints, Wallpapers, Homeware, Greetings Cards, Gift Wrap and more.
Claire currently works on a freelance basis and loves the opportunity she has to work with a range of exciting and innovative companies.
For more information on Claire and to view her extensive portfolio please visit www.clairesmillie.com.
Claire Smillie joined Society6 on April 27, 2012.