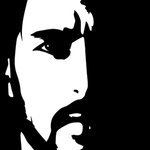 ClaM
http://www.clambrera.altervista.org/
Claudio Martino was born 30th of November 1984 in Reggio Calabria , Italy.
At an early age he was already showing his innate artistic talent: his dowry for pencil drawing and modelling emerges during the first years of elementary school. Particularly, his modelling skill starts creating extraordinary proportionate and detailed naturalistic subjects using a great variety of basic materials: from the classic "Pongo" to the paraffin, from the aluminum foil to the kneaded eraser. His technique in modelling soon develops a wider range of subjects and on various materials such as plasticine, chalk and Papier-mâché.
He attended high school specializing in artistic education "Mattia Preti", where his talent was recognized in more than one occasion and his work set to inspire the younger students. He obtained the diploma with honors in 2003.
n 2000, he took part to the drawing contest "Educazione alla Legalità", about the theme Legality, winning the first prize.
In 2002, the Art Magazine "Talentscout" published an article of the artist with a selection of his pencil and plasticine works.
In 2006, the "Mattia Preti" High School donated a Claudio's plaster cast bas-relief to Santo Versace, brother of the famous italian fashion designer Gianni native of Reggio Calabria.
Claudio graduated magna cum laude in "New Technologies of Art" at the "Accademia di Belle Arti di Brera" in Milan. During his academic career, he took a new challenge performing 3d scolpture and continuing the mastery of the pencil drawing technique.
He has experience as an illustrator, in particular he drew covers and graphics for the folk band "MATTANZA" and for private clients.
He worked since 2004 as character designer and modeller for several companies: MenteZero, Shangrilabs srl, DGform srl.
He recently worked in an animated project called "Losers".
The artist currently resides and works in Milan, Italy.
Read more