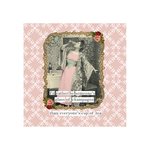 Clare Jordan
I live on a farm in Ireland with my daughter...we have 3 dogs and a canary named Pearl. I started my business as I had to provide for my daughter and it was a sink or swim time…I spent 4 years working from my parents sitting room and in time we built our own home and now I have a little studio (which is beyond a dream come true). I believe in following dreams, being brave, trusting that things do work out with hard work and focus, I believe in kindness, positivity and that tea cures all. I believe in fun wellie boots, lipstick and dancing in puddles. I believe life is a blessing and that we all are here to do what makes us happy. I want my designs to make you smile, I aim to create the perfect caption and image for a sister, mother, workmate or friend…have an "oh that's so Mary" moment, and she will laugh out loud when she sees it. My family and friends are my main inspiration (not sure if that reflects on us positively…let's not look too deeply), thank you for visiting and call over to my main site to learn more. www.clarejordan.com Clare Jordan joined Society6 on March 26, 2014
More
I live on a farm in Ireland with my daughter...we have 3 dogs and a canary named Pearl. I started my business as I had to provide for my daughter and it was a sink or swim time…I spent 4 years working from my parents sitting room and in time we built our own home and now I have a little studio (which is beyond a dream come true).
I believe in following dreams, being brave, trusting that things do work out with hard work and focus, I believe in kindness, positivity and that tea cures all. I believe in fun wellie boots, lipstick and dancing in puddles. I believe life is a blessing and that we all are here to do what makes us happy.
I want my designs to make you smile, I aim to create the perfect caption and image for a sister, mother, workmate or friend…have an "oh that's so Mary" moment, and she will laugh out loud when she sees it. My family and friends are my main inspiration (not sure if that reflects on us positively…let's not look too deeply), thank you for visiting and call over to my main site to learn more. www.clarejordan.com
Clare Jordan joined Society6 on March 26, 2014.
Clare Jordan's Store
8 result
Filter