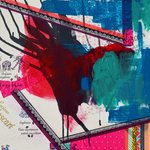 Clare O Connor Contemporary
Clare O'Connor is an Irish artist with a BA in Visual Arts Practice & a BDES in Design Communications from IADT, Dublin, graduating in 2001 and 2009. She is currently living in Venice Italy where she has further developed her studio practice. The city has greatly inspired and informed her work. Navigating the Labyrinth series is influenced by the city of Venice, an interest in the levels of consciousness and the way in which we navigate our minds and the world around us. Her work is process based and intuitive, with her most recent practice toying with the dynamic interplay of organic and organized forms, complimentary and contrasting colour, pattern and repeated shapes, which when played off each other attempt to communicate a heightened sense of visual energy and create a unique and viscerally eclectic experience for the viewer. Clare O Connor Contemporary joined Society6 on January 5, 2017
More
Clare O'Connor is an Irish artist with a BA in Visual Arts Practice & a BDES in Design Communications from IADT, Dublin, graduating in 2001 and 2009. She is currently living in Venice Italy where she has further developed her studio practice. The city has greatly inspired and informed her work. Navigating the Labyrinth series is influenced by the city of Venice, an interest in the levels of consciousness and the way in which we navigate our minds and the world around us.
Her work is process based and intuitive, with her most recent practice toying with the dynamic interplay of organic and organized forms, complimentary and contrasting colour, pattern and repeated shapes, which when played off each other attempt to communicate a heightened sense of visual energy and create a unique and viscerally eclectic experience for the viewer.
Clare O Connor Contemporary joined Society6 on January 5, 2017.