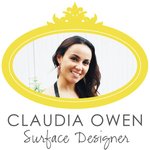 Claudia Owen
I am a designer living in Canberra, Australia and I love creating patterns and applying them to a variety of products such as wallpapers, rugs and cards. In here you will find a small sample of my work. I enjoy designing patterns and I love how they can transform an average design into a striking work of art. My inspiration comes from many places but I'm particularly drawn to geometric and strong bold patterns, even though that's not always what I design. I feel the world is a wonderful place full of beauty and that many designs can be inspired by its treasures and find a place in any home in the shape of a lamp shade, wallpaper or a gorgeous piece of fabric. I pour my heart over each of my designs and I hope it brings people joy each time they interact with them. You can also find me here: WEBSITE: http://claudiaowen.com/ BLOG: http://claudiaowen.wordpress.com/ FACEBOOK: http://www.facebook.com/ClaudiaOwenBlog GREENVELOPE: https://www.greenvelope.com/designers/Claudia-owen FLICKR: http://www.flickr.com/photos/claudiaowen TWITTER: http://twitter.com/claudiaowenblog PINTEREST: http://pinterest.com/claudiaowenblog/ PINGG: http://www.pingg.com/gallery/designer/claudia-owen SOCIETY6: http://society6.com/claudiaowen SPOONFLOWER: http://www.spoonflower.com/profiles/claudiaowen ENVELOP: http://www.envelop.eu/shop/claudiaowen WANELO: http://wanelo.com/claudiaowen WE HEART IT: http://weheartit.com/ClaudiaOwenBlog ISSUU: http://issuu.com/claudiaowen LINKEDIN: http://www.linkedin.com/in/claudiaowenblog Claudia Owen joined Society6 on January 18, 2011
More
I am a designer living in Canberra, Australia and I love creating patterns and applying them to a variety of products such as wallpapers, rugs and cards. In here you will find a small sample of my work.
I enjoy designing patterns and I love how they can transform an average design into a striking work of art. My inspiration comes from many places but I'm particularly drawn to geometric and strong bold patterns, even though that's not always what I design. I feel the world is a wonderful place full of beauty and that many designs can be inspired by its treasures and find a place in any home in the shape of a lamp shade, wallpaper or a gorgeous piece of fabric. I pour my heart over each of my designs and I hope it brings people joy each time they interact with them.
You can also find me here: WEBSITE: http://claudiaowen.com/ BLOG: http://claudiaowen.wordpress.com/ FACEBOOK: http://www.facebook.com/ClaudiaOwenBlog GREENVELOPE: https://www.greenvelope.com/designers/Claudia-owen FLICKR: http://www.flickr.com/photos/claudiaowen TWITTER: http://twitter.com/claudiaowenblog PINTEREST: http://pinterest.com/claudiaowenblog/ PINGG: http://www.pingg.com/gallery/designer/claudia-owen SOCIETY6: http://society6.com/claudiaowen SPOONFLOWER: http://www.spoonflower.com/profiles/claudiaowen ENVELOP: http://www.envelop.eu/shop/claudiaowen WANELO: http://wanelo.com/claudiaowen WE HEART IT: http://weheartit.com/ClaudiaOwenBlog ISSUU: http://issuu.com/claudiaowen LINKEDIN: http://www.linkedin.com/in/claudiaowenblog
Claudia Owen joined Society6 on January 18, 2011.