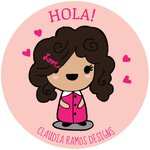 Claudia Ramos Designs
I'm a graphic designer, illustrator, and a mom! My inspiration is my daughter, she keeps me young and reminds me to have fun with everything I do. My work expresses who I am colorful, fun, and creative! Thank you for checking out my work and can't wait to bring joy to everybody with my work.
My Website: www.claudiaramosdesigns.com Etsy shop: https://www.etsy.com/shop/ClaudiaRamosDesigns Instagram: https://instagram.com/claudiaramosdesigns/ Facebook: https://www.facebook.com/claudiaramosdesigns
If you want to share any products you purchased from my store please email me at: claudiamarisol@gmail.com
All images © Claudia Ramos. It is unlawful to copy, edit, display or redistribute copyrighted images without permission.
Read more
Wall-art by Claudia Ramos Designs
621 results
Filter