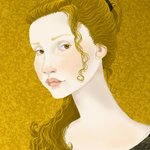 Cloud 9 Art Prints
My imaginary characters are inspired by a combination of things, like dolls, fairies, and anime figures. Giving my characters a personality that says, -I have a life of my own-, is what motivates me to create them. Nancy Kennedy -NHK- http://nancykennedyart.com/ Cloud 9 Art Prints joined Society6 on July 7, 2015
More
My imaginary characters are inspired by a combination of things, like dolls, fairies, and anime figures.
Giving my characters a personality that says, -I have a life of my own-, is what motivates me to create them.
Nancy Kennedy -NHK-
http://nancykennedyart.com/
Cloud 9 Art Prints joined Society6 on July 7, 2015.