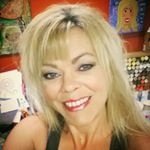 Clover Moon Designs
Peggy Sowers-Heckman is a self taught artist. She works in many mediums. Her designs are whimsical and evoke a sense of happiness. She uses bright colors and funny sayings. Her work is inspired from her childhood memories and nature. You will find mixed media girls, whimsical flowers, trees, birds and typography in her collection. " I could literally could paint all day, it's so relaxing, and takes me away into my own little world". Peggy also creates assemblage jewelry, using vintage pieces, soldering, metals, resin, glass beads,crystals and up-cycled materials. Visit her blog at www.CloverMoonDesigns.com Email Pem-La-Crem@Hotmail.com You can follow her on Twitter, Instagram, Facebook and other social media sites @ CloverMoonDesigns Clover Moon Designs joined Society6 on June 1, 2016
More
Peggy Sowers-Heckman is a self taught artist. She works in many mediums. Her designs are whimsical and evoke a sense of happiness. She uses bright colors and funny sayings. Her work is inspired from her childhood memories and nature. You will find mixed media girls, whimsical flowers, trees, birds and typography in her collection. " I could literally could paint all day, it's so relaxing, and takes me away into my own little world".
Peggy also creates assemblage jewelry, using vintage pieces, soldering, metals, resin, glass beads,crystals and up-cycled materials.
Visit her blog at www.CloverMoonDesigns.com
Email Pem-La-Crem@Hotmail.com
You can follow her on Twitter, Instagram, Facebook and other social media sites @ CloverMoonDesigns
Clover Moon Designs joined Society6 on June 1, 2016.
Clover Moon Designs's Store
9 result
Filter