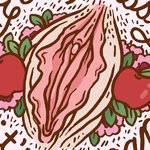 Club Clitoris / Meredith
Club Clitoris is an instagram account (@clubclitoris) run by Meredith White, a feminist, vegan, and vagina artist in Dallas, Texas.
WHY VAGINAS?
Our culture exploits female insecurity, while reinforcing the scary concept that women (and their vaginas) are sexual objects. And women constantly compare their bodies to an unrealistic standard. Instead of loving the natural body, companies exploit women to sell razors, shaving cream, and surgical treatments such as labiaplasty. Our society creates problems with natural bodies and profits off the abuse of women.
For centuries, we've treated the vagina as if it's something to be ashamed of and abused, and uneducated views fuel that fire. Why does every woman grow leg, arm, facial, and pubic hair? Because it's natural! And so are prominent labia.
I illustrate vaginas in their unedited form - every illustration is referenced from a real woman. Every hair, labia wrinkle, dimple, and freckle is included in my drawings, because naturalism is beautiful. Lady friend! Your vagina is normal, natural, and gorgeous, regardless of what the media tells you. I also illustrate proud body hair babes, and the naturalism of periods. The freedom to love your body without being humiliated or hating yourself is a basic human right. And I'll keep fighting for that love.
Join the club: @clubclitoris
Read more
Club Clitoris / Meredith's Store
Filter