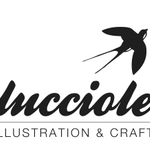 lucciole
lucciole is a lab, a job, and a dream, born in 2009. lucciole is an handmade project by Chiara Albanesi. It is a combination of illustration, printmaking and textile design, with a focus on embroidery. lucciole is based on the belief that each handmade object has its own value in the relationship between the designer, his/her tools, and those who receive it. lucciole today is a research lab, a space of experimentation, between shape and materials, inks and threads. lucciole joined Society6 on January 28, 2013
More
lucciole is a lab, a job, and a dream, born in 2009.
lucciole is an handmade project by Chiara Albanesi. It is a combination of illustration, printmaking and textile design, with a focus on embroidery.
lucciole is based on the belief that each handmade object has its own value in the relationship between the designer, his/her tools, and those who receive it. lucciole today is a research lab, a space of experimentation, between shape and materials, inks and threads.
lucciole joined Society6 on January 28, 2013.