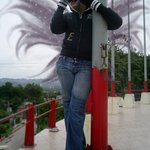 Alexbookpages
Hello, my name is Clyo. I'm a Mexican amateur artist. Ask me any design that you want and I'll do my best to get it for you. Lots of love. Hola, me llamo Clyo. soy una artista mexicana principiante. Pídeme cualquier diseño que quieras y haré lo mejor para conseguirlo para ti. Besos Alexbookpages joined Society6 on April 8, 2013
More
Hello, my name is Clyo. I'm a Mexican amateur artist. Ask me any design that you want and I'll do my best to get it for you. Lots of love.
Hola, me llamo Clyo. soy una artista mexicana principiante. Pídeme cualquier diseño que quieras y haré lo mejor para conseguirlo para ti. Besos
Alexbookpages joined Society6 on April 8, 2013.