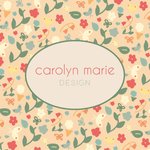 cmsong
Welcome to my store. I am currently a graphic design student, but I focus a lot on surface patterns. I love fabric and stationery so that's why. I like to experiment with different styles for my illustrations and patterns, so you might find something that fits you. There will be mostly patterns, and I try to update as soon as possible. Be on the lookout for new pieces, and thank you for visiting! Instagram: cmarie_illustrations cmsong joined Society6 on November 28, 2016
More
Welcome to my store. I am currently a graphic design student, but I focus a lot on surface patterns. I love fabric and stationery so that's why. I like to experiment with different styles for my illustrations and patterns, so you might find something that fits you. There will be mostly patterns, and I try to update as soon as possible. Be on the lookout for new pieces, and thank you for visiting!
Instagram: cmarie_illustrations
cmsong joined Society6 on November 28, 2016.