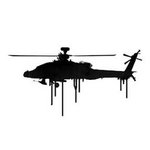 C. Nance
Illustrator based out of the Dirty South. I work full time in EMS at an A-EMT/ Firefighter and fly Apache helicopters as an Army veteran part time. I am punk rock guy that is inspired by stencil graffiti, tattoos with flawless line work, StarWars, and the Cafe Racer Culture. If you buy an item take a picture either wearing it or with it. I will Post it and give you a shout out... Cvnance@gmail. Thank you C. Nance joined Society6 on August 18, 2013
More
Illustrator based out of the Dirty South. I work full time in EMS at an A-EMT/ Firefighter and fly Apache helicopters as an Army veteran part time. I am punk rock guy that is inspired by stencil graffiti, tattoos with flawless line work, StarWars, and the Cafe Racer Culture.
If you buy an item take a picture either wearing it or with it. I will Post it and give you a shout out... Cvnance@gmail. Thank you
C. Nance joined Society6 on August 18, 2013.