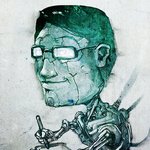 Cobaltplasma
I'm just some guy from Hawaii who likes to draw some weird, sometimes wild stuff. Mostly weird.
I do a lot of doodles and random sketches, brainstorms for a bunch of projects I have brewing, from game design work to comics and general illustration. Occasionally I've been known to do random things in my sleep, there may be things showing up here early in the morning that I have no recollection of how they got here.
Mainly I'm a random guy who draws weird stuff.
Read more