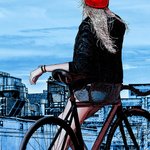 Megan Morgan
Drink some coffee, sip some wine, ride your life, enjoy your ride! I have a passion for cycling, coffee, and flowers developed from my travels and experiences over several years. Artistically, I have incorporated these passions into my Coffee Art Print original works - uniquely colored art pieces that revolve around cycling (from object: bikes, cycles, tricycles, cruisers, retro vintage bicycles). Coffee Art Print's mixed-media originals are created using cut-stencils, spray paint & oil pastels on a stretched burlap canvas. The original works are available for purchase and range in size from 16"x 20" ("Trikes 2013") to 30"x40" ("Caffe Italiano" 2013). New commissions accepted. "Digitals" are new image compilations not yet created within a mixed-media original. Several digitals were licensed exclusively with Portfolio Arts Group within their Artbeats segment and are available separately through several large national home decor retailers including Hobby Lobby, Michael's, HomeGoods and HomeSense. Megan Morgan joined Society6 on February 27, 2014
More
Drink some coffee, sip some wine, ride your life, enjoy your ride!
I have a passion for cycling, coffee, and flowers developed from my travels and experiences over several years. Artistically, I have incorporated these passions into my Coffee Art Print original works - uniquely colored art pieces that revolve around cycling (from object: bikes, cycles, tricycles, cruisers, retro vintage bicycles).
Coffee Art Print's mixed-media originals are created using cut-stencils, spray paint & oil pastels on a stretched burlap canvas. The original works are available for purchase and range in size from 16"x 20" ("Trikes 2013") to 30"x40" ("Caffe Italiano" 2013). New commissions accepted.
"Digitals" are new image compilations not yet created within a mixed-media original. Several digitals were licensed exclusively with Portfolio Arts Group within their Artbeats segment and are available separately through several large national home decor retailers including Hobby Lobby, Michael's, HomeGoods and HomeSense.
Megan Morgan joined Society6 on February 27, 2014.