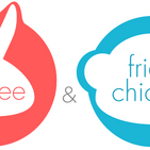 coffee & fried chicken
Coffee & Fried Chicken was born on April, 7th, 2012. When K, the black monkey who loves fried chicken, and W, the white rabbit who lives on coffee, exchanged their vows. K designed the monkey & rabbit characters as the body doubles for themselves, and together they share their story with friends and families through the two characters. Since both K and W are a bit camera shy, they decide to use monkey & rabbit to capture little moments in their lives. Please visit us at www.coffeeandfriedchicken.com coffee & fried chicken joined Society6 on March 15, 2013
More
Coffee & Fried Chicken was born on April, 7th, 2012. When K, the black monkey who loves fried chicken, and W, the white rabbit who lives on coffee, exchanged their vows. K designed the monkey & rabbit characters as the body doubles for themselves, and together they share their story with friends and families through the two characters. Since both K and W are a bit camera shy, they decide to use monkey & rabbit to capture little moments in their lives.
Please visit us at www.coffeeandfriedchicken.com
coffee & fried chicken joined Society6 on March 15, 2013.