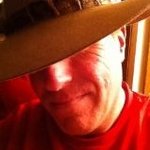 Cole McLester
I began my studies with abstract painting which seemed a more natural because organic nature. In 2012, I incorporated a more figurative form of art to broaden his understanding and artistic expression. He is also a musician. My abstract art expresses feeling of moment. Not planned out in advance. When putting paint to canvas it is random, it is what I call "bone soul". In my figurative art, I may have a general idea of a topic but I only know the subject when I see it. It has to speak for me to want to paint it. I enjoy portraying intrigue and drama through the use of shadow and implied parts of the subject which can be interpreted by the viewer. There is a need to do more than the day to day work that drives me to do creative endeavors. The pressure of time as I enter the mature stage of my life. I want my art to incite some emotion either love or hate, just not indifference. Cole McLester joined Society6 on October 13, 2014
More
I began my studies with abstract painting which seemed a more natural because organic nature. In 2012, I incorporated a more figurative form of art to broaden his understanding and artistic expression. He is also a musician.
My abstract art expresses feeling of moment. Not planned out in advance. When putting paint to canvas it is random, it is what I call "bone soul".
In my figurative art, I may have a general idea of a topic but I only know the subject when I see it. It has to speak for me to want to paint it. I enjoy portraying intrigue and drama through the use of shadow and implied parts of the subject which can be interpreted by the viewer.
There is a need to do more than the day to day work that drives me to do creative endeavors. The pressure of time as I enter the mature stage of my life. I want my art to incite some emotion either love or hate, just not indifference.
Cole McLester joined Society6 on October 13, 2014.