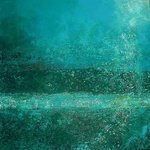 Colette Baumback
The process of painting and creating is so captivating, incorporating my emotional response to the subject into the work and watching it develop. I work with a palette knife exploring the structure of the subject, building up layers of paint, colour and texture until I achieve the desired effect.I would describe my artwork as organic, impressionist and sometimes abstract, the use of texture is essential in my work it adds a three dimensional quality and which gives the painting life. The paintings are a reflection of my fascination with the natural elements in our surroundings. I am inspired by the richness of colour and texture in the natural landscape, that inspiration compels me to paint. I have been fortunate enough to have had a lot of success with my sales of original paintings I am happy that people find my work appealing. http://www.colettebaumback.com/ Colette Baumback joined Society6 on May 21, 2015
More
The process of painting and creating is so captivating, incorporating my emotional response to the subject into the work and watching it develop. I work with a palette knife exploring the structure of the subject, building up layers of paint, colour and texture until I achieve the desired effect.I would describe my artwork as organic, impressionist and sometimes abstract, the use of texture is essential in my work it adds a three dimensional quality and which gives the painting life. The paintings are a reflection of my fascination with the natural elements in our surroundings. I am inspired by the richness of colour and texture in the natural landscape, that inspiration compels me to paint. I have been fortunate enough to have had a lot of success with my sales of original paintings I am happy that people find my work appealing.
http://www.colettebaumback.com/
Colette Baumback joined Society6 on May 21, 2015.
Colette Baumback's Store
20 results
Filter