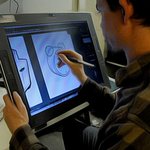 Colin's Workshop
I am a graphic artist specializing in photography, design and illustration. I'm currently living Fullerton, CA. I've been in the graphic arts business since 2000, working in-house and on a freelance basis with design studios and educational institutions. When I'm not working I like to play with my dog, ride bicycles, go hiking and camping, work in my vegetable garden, and brew my own beer. You can see more examples of my professional work at www.colinsworkshop.com Colin's Workshop joined Society6 on April 21, 2010
More
I am a graphic artist specializing in photography, design and illustration. I'm currently living Fullerton, CA. I've been in the graphic arts business since 2000, working in-house and on a freelance basis with design studios and educational institutions.
When I'm not working I like to play with my dog, ride bicycles, go hiking and camping, work in my vegetable garden, and brew my own beer.
You can see more examples of my professional work at www.colinsworkshop.com
Colin's Workshop joined Society6 on April 21, 2010.
Long Sleeve Tshirts by Colin's Workshop
4 results
Filter
Products

Long Sleeve T-Shirts