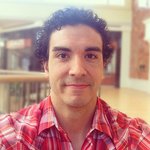 Colin Harman
Colin Harman is inexplicably swooned by the smooth curves of a well-designed typeface. Besides pushing pixels and dabbling in motion graphics, he also enjoys iPhone photography, reading, board sports, and discovering new things that make his life better. A native Californian, he started out life in a Los Angeles suburb, and then moved to Northern California with his family. Growing up, Colin drew in all his school books and dreamed he'd color cartoons for Disney one day. He would probably be in a cartoon studio today if cartoons were still made in that style. However, he's still a Disney & Pixar fanatic and knows enough trivia about the Disney empire to be considered by some as a borderline obsession. Colin Harman joined Society6 on December 8, 2011
More
Colin Harman is inexplicably swooned by the smooth curves of a well-designed typeface. Besides pushing pixels and dabbling in motion graphics, he also enjoys iPhone photography, reading, board sports, and discovering new things that make his life better.
A native Californian, he started out life in a Los Angeles suburb, and then moved to Northern California with his family. Growing up, Colin drew in all his school books and dreamed he'd color cartoons for Disney one day. He would probably be in a cartoon studio today if cartoons were still made in that style. However, he's still a Disney & Pixar fanatic and knows enough trivia about the Disney empire to be considered by some as a borderline obsession.
Colin Harman joined Society6 on December 8, 2011.