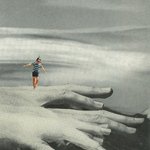 Jesse Treece
Jesse Treece is a collage artist living in Seattle, Wa. whose work screams of the simple, yet ever complex, interpretations of both the mundane and whimsical facets of life. He's somehow managed to mix both the regular and absurd, beautiful and disturbing and put them into images that you find you could get lost in for hours. http://www.instagram.com/jessetreececollage/ http://www.collageartbyjesse.tumblr.com http://www.facebook.com/collageartbyjesse contact me at: collageartbyjesse@yahoo.com Jesse Treece joined Society6 on December 10, 2010
More
Jesse Treece is a collage artist living in Seattle, Wa. whose work screams of the simple, yet ever complex, interpretations of both the mundane and whimsical facets of life. He's somehow managed to mix both the regular and absurd, beautiful and disturbing and put them into images that you find you could get lost in for hours.
http://www.instagram.com/jessetreececollage/ http://www.collageartbyjesse.tumblr.com http://www.facebook.com/collageartbyjesse
contact me at: collageartbyjesse@yahoo.com
Jesse Treece joined Society6 on December 10, 2010.
Framed Prints by Jesse Treece
613 results
Filter