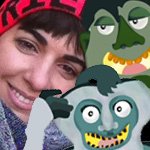 Julia Bohan
Bok (Hello)! I'm a Graphic Designer transplanted from New York City to Chicago. In 2011 I graduated from Parsons The New School for Design. That summer I moved to Chicago and started designing on deadline at the Tribune's newspaper RedEye. Projects there kept me busy and versatile: eye-catching covers, deadline infographic spreads, drawing icons and designing for the iPad and web. Currently I'm a Senior Designer at Aon. I love brainstorming and developing ideas in a team so send me an email and let's talk! Julia Bohan joined Society6 on August 13, 2014
More
Bok (Hello)! I'm a Graphic Designer transplanted from New York City to Chicago. In 2011 I graduated from Parsons The New School for Design. That summer I moved to Chicago and started designing on deadline at the Tribune's newspaper RedEye. Projects there kept me busy and versatile: eye-catching covers, deadline infographic spreads, drawing icons and designing for the iPad and web. Currently I'm a Senior Designer at Aon.
I love brainstorming and developing ideas in a team so send me an email and let's talk!
Julia Bohan joined Society6 on August 13, 2014.
Cases iPhone 6s by Julia Bohan
0 results
Filter