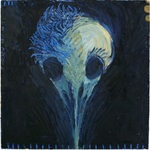 Colleen Durant
Illustrator and Jewelry designer -- I am currently attending Moore College of Art and Design, and majoring in illustration. I work both with traditional media and digital media. I have been making jewelry as a craft for nearly 6 years now. I mostly specialize in pendant necklaces and earrings. Go to my Etsy Store for original paintings and jewelry Etsy Shop -- etsy.com/people/colleendurant Portfolio website -- colleendurant.weebly.com Instagram -- @colleen_durant Colleen Durant joined Society6 on November 8, 2014
More
Illustrator and Jewelry designer -- I am currently attending Moore College of Art and Design, and majoring in illustration. I work both with traditional media and digital media. I have been making jewelry as a craft for nearly 6 years now. I mostly specialize in pendant necklaces and earrings.
Go to my Etsy Store for original paintings and jewelry
Etsy Shop -- etsy.com/people/colleendurant
Portfolio website -- colleendurant.weebly.com Instagram -- @colleen_durant
Colleen Durant joined Society6 on November 8, 2014.