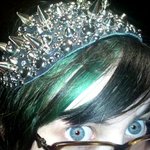 Colleen Parker
I'm an illustrator and fine artist and in some distant way related to the awkwardest of unicorns. I work with scratchboard and relief printmaking techniques to make things. Pretty things. Probably creepy pretty, though. I like secret scary things, cats, bats, and slothomobiles. Oh and I wish I had a mustache, so sometimes I put my hair over my lip and pretend. Colleen Parker joined Society6 on January 2, 2012
More
I'm an illustrator and fine artist and in some distant way related to the awkwardest of unicorns.
I work with scratchboard and relief printmaking techniques to make things. Pretty things. Probably creepy pretty, though. I like secret scary things, cats, bats, and slothomobiles.
Oh and I wish I had a mustache, so sometimes I put my hair over my lip and pretend.
Colleen Parker joined Society6 on January 2, 2012.