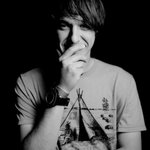 Collin Salazar
As an artist, I strive to unveil my creative vision through paintings that define the energy behind one's expression. My aim is to portray how powerful one's face can be at expressing emotion, conscious or unconsciously. My work attempts to show the connection between colors and textures to people's feelings and experiences. Music is almost always the first place I start before I begin painting and is a major influence in the desired feeling that is expressed in my artwork. Working with watercolors truly allows the disposition of my work to flow more naturally into color. My work will continue to illuminate the complexity behind body position, movement, and facial expression. The endeavor to understand and capture a state of mind inspires me to create artwork that defines the power of one's emotions. My artwork will inspire what people do so easily everyday; read emotion in a face. Find more of my work @ https://collinsalazar.com Like my Facebook page @ https://www.facebook.com/CollinSalazarArt Collin Salazar joined Society6 on November 27, 2014
More
As an artist, I strive to unveil my creative vision through paintings that define the energy behind one's expression. My aim is to portray how powerful one's face can be at expressing emotion, conscious or unconsciously. My work attempts to show the connection between colors and textures to people's feelings and experiences.
Music is almost always the first place I start before I begin painting and is a major influence in the desired feeling that is expressed in my artwork. Working with watercolors truly allows the disposition of my work to flow more naturally into color.
My work will continue to illuminate the complexity behind body position, movement, and facial expression. The endeavor to understand and capture a state of mind inspires me to create artwork that defines the power of one's emotions. My artwork will inspire what people do so easily everyday; read emotion in a face.
Find more of my work @ https://collinsalazar.com
Like my Facebook page @ https://www.facebook.com/CollinSalazarArt
Collin Salazar joined Society6 on November 27, 2014.
Collin Salazar's Store
7 results
Filter