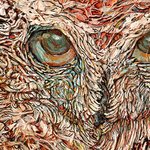 Col Mitchell Paper Artist
International award winning artist brings Nature's magic indoors. My award winning work has featured in Times Square NYC; the 2010 G8/G20 Summit Media Centre, Toronto; online & print magazines; art publications; popular art blogs; and juried global exhibitions,. Shop for original works at colmitchell.com Col Mitchell Paper Artist joined Society6 on January 20, 2014
More
International award winning artist brings Nature's magic indoors.
My award winning work has featured in Times Square NYC; the 2010 G8/G20 Summit Media Centre, Toronto; online & print magazines; art publications; popular art blogs; and juried global exhibitions,.
Shop for original works at colmitchell.com
Col Mitchell Paper Artist joined Society6 on January 20, 2014.
Comforters by Col Mitchell Paper Artist
46 results
Filter
Department

Dept

Pillows & Bedding