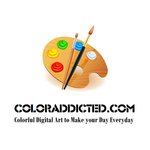 COLORADDICTED.COM
We love color, so we decided to start experimenting with Digital Art. Then we thought, why not try it on some everyday objects to make our days (and nights ...) better and, definitely, more colorful ? So, here are the results digitally printed on a variety of everyday products for you, your children and your pets ! We hope you enjoy them !!! COLORADDICTED.COM joined Society6 on January 16, 2015
More
We love color, so we decided to start experimenting with Digital Art. Then we thought, why not try it on some everyday objects to make our days (and nights ...) better and, definitely, more colorful ?
So, here are the results digitally printed on a variety of everyday products for you, your children and your pets ! We hope you enjoy them !!!
COLORADDICTED.COM joined Society6 on January 16, 2015.