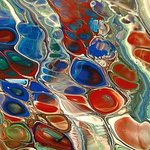 ColorFlowCreations
I create unique and one of a kind paintings using bold color combinations and various painting techniques. I love working with liquid acrylics and let the paints tell their story by evolving and changing as I work with them. No two are alike. Please visit me at Facebook.com/colorflowcreations, etsy.com/shop/colorflowart and instagram.com/colorflowcreations for original paintings for sale and to see new art. ColorFlowCreations joined Society6 on January 14, 2017
More
I create unique and one of a kind paintings using bold color combinations and various painting techniques. I love working with liquid acrylics and let the paints tell their story by evolving and changing as I work with them. No two are alike.
Please visit me at Facebook.com/colorflowcreations, etsy.com/shop/colorflowart and instagram.com/colorflowcreations for original paintings for sale and to see new art.
ColorFlowCreations joined Society6 on January 14, 2017.