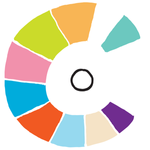 Coloria
All for the love of colour :) - Playing with colour theory!
I have studied old colour theories and colour systems and selected some visually pleasing colour wheels and charts etc. to be re-made. I make my own high-resolution and high-quality versions of these reference images. I often re-make the images using the same faded and often altered tones as in original reference image. But I also study the original colour theory of each illustration, and based on this information I usually make also another version, which is an interpretation of the same image using the shades that were most likely used in the original print before fading. I also have played around with the elements creating inverted or re-arranged images.
The copyrights of these new re-makes and interpretations belong to me.
All my illustrations are made from scratch and they are high-resolution images - not some low-resolution copies from random web pages. :)
Read more