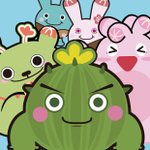 Plump Planet 多肉小星球
The idea of Plump Planet is coming from succulent plants. Succulents have the ability to thrive and survive under water-deficient environment such as desert.
Plump Planet citizen face different difficulties every day, such as working and study pressure, but they always try hard and use their clever to solve problems, as same as the spirit of Hong Kong People". Plump Planet citizen always keep the enthusiasm to pursue their dreams and promote the spirit of perseverance.
This brand receive award from CWHK Character Design Award and Indigo Character Design Sliver Award.
Introduction Character Design PPT: https://bit.ly/2D0iZoO Facebook: https://www.facebook.com/SucculentPlumpPlanet/
Read more
Plump Planet 多肉小星球's Store
Filter