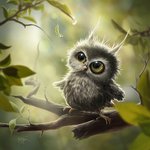 Company of Wolves
My name is Marie Beschorner and I am a freelance artist and illustrator based in Germany, partly working from Stockholm, Sweden. I focus on environments and character design as well as portraiture. I mainly do final art for advertising and campaigns, book illustrations and general concept art for games and films. Follow me on facebook: https://www.facebook.com/CompanyOfWolvesIllustration Behance: https://www.behance.net/companyofwolves Twitter: https://twitter.com/coofwolves Company of Wolves joined Society6 on December 20, 2014
More
My name is Marie Beschorner and I am a freelance artist and illustrator based in Germany, partly working from Stockholm, Sweden. I focus on environments and character design as well as portraiture. I mainly do final art for advertising and campaigns, book illustrations and general concept art for games and films.
Follow me on facebook: https://www.facebook.com/CompanyOfWolvesIllustration Behance: https://www.behance.net/companyofwolves Twitter: https://twitter.com/coofwolves
Company of Wolves joined Society6 on December 20, 2014.