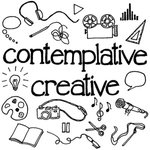 Contemplative Creative
Everyone needs inspiration. We do, and so do you.
Contemplative Creative is a podcast that discusses the deeper issues of today's creative landscape and living in a modern world. The goal: uncovering insights to live more intentional lives as creative professionals and hobbyists, or even just as responsible human beings looking to live a life of meaning.
Here on Society6, we share some of our favourite words to live by as beautiful works of design with you. All proceeds go towards supporting the podcast too!
Check out the work we do public library we are building over at www.contemplativecreative.com, and find us on iTunes or wherever you get your podcasts!
Read more
Contemplative Creative's Store
Filter
Contemplative Creative's Store