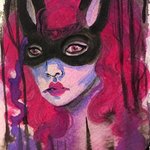 coracrow
Chicago-born artist currently living and creating in Indiana. Earned a BFA in Visual Communications at The Illinois Institute of Art-Chicago in 2011. My work is inspired by nature, horror movies, outer space, halloween, tattoo art/culture, subcultures, fairytales, witchy aesthetic, the occult and the strange. I create primarily using watercolors, colored pencils and ink. But I also dabble with acrylic paint, markers, book-making and embroidery. Connect: coracrowart@gmail.com http://www.coracrow.com http://www.instagram.com/coracrow http://coracrow.tumblr.com https://www.facebook.com/coracrowart coracrow joined Society6 on July 17, 2014
More
Chicago-born artist currently living and creating in Indiana. Earned a BFA in Visual Communications at The Illinois Institute of Art-Chicago in 2011.
My work is inspired by nature, horror movies, outer space, halloween, tattoo art/culture, subcultures, fairytales, witchy aesthetic, the occult and the strange. I create primarily using watercolors, colored pencils and ink. But I also dabble with acrylic paint, markers, book-making and embroidery.
Connect: coracrowart@gmail.com http://www.coracrow.com http://www.instagram.com/coracrow http://coracrow.tumblr.com https://www.facebook.com/coracrowart
coracrow joined Society6 on July 17, 2014.