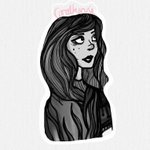 coralkarina
26 y/o Business Admin doing things on the side. Influences include film, TV (Mr Robot is my current obsession), pretty cities or just anywhere that catches my eye... Chocolate, cake, sweet unspeakable foods, gigs, festivals, dark photography, simple style, pastels, melancholia, nostalgia, mindfulness, change. coralkarina joined Society6 on September 3, 2013
More
26 y/o Business Admin doing things on the side.
Influences include film, TV (Mr Robot is my current obsession), pretty cities or just anywhere that catches my eye... Chocolate, cake, sweet unspeakable foods, gigs, festivals, dark photography, simple style, pastels, melancholia, nostalgia, mindfulness, change.
coralkarina joined Society6 on September 3, 2013.
coralkarina's Store
10 results
Filter