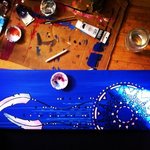 Coral Lani
Hi, my name is Coral Lani, I love colors, buttons, and art supplies. I am a designer, a seamstress, an artist, and a crafter. It all started on the remote beaches and in the wild woods of Alaska, where I was raised off the grid in my family's handcrafted home. We lived in a small town, far from any cities, a place where creativity was a necessity for survival and entertainment. I started rapidly producing art as soon as I could hold a paint brush, I learned to knit at the age of four, and by five I was selling my creations in my own store: "Coral's Crafts" in the corner of my mom's yarn shop. By the time I was in high school I was making clothes for myself and my friends and writing the curriculum for my own classes in fashion design. Naturally when I moved to the Lower 48 I found a way to continue and grow my artistic career. I have spent years travelling to music festivals selling my wares. I've been blessed with the opportunity to craft custom wedding wear, to be featured in fashion shows, and to hang my paintings in coffee shops along the way. Thank you for your support, I am excited for what the future holds as my dreams unfold into reality. Coral Lani joined Society6 on March 9, 2015
More
Hi, my name is Coral Lani, I love colors, buttons, and art supplies. I am a designer, a seamstress, an artist, and a crafter.
It all started on the remote beaches and in the wild woods of Alaska, where I was raised off the grid in my family's handcrafted home. We lived in a small town, far from any cities, a place where creativity was a necessity for survival and entertainment. I started rapidly producing art as soon as I could hold a paint brush, I learned to knit at the age of four, and by five I was selling my creations in my own store: "Coral's Crafts" in the corner of my mom's yarn shop. By the time I was in high school I was making clothes for myself and my friends and writing the curriculum for my own classes in fashion design.
Naturally when I moved to the Lower 48 I found a way to continue and grow my artistic career. I have spent years travelling to music festivals selling my wares. I've been blessed with the opportunity to craft custom wedding wear, to be featured in fashion shows, and to hang my paintings in coffee shops along the way. Thank you for your support, I am excited for what the future holds as my dreams unfold into reality.
Coral Lani joined Society6 on March 9, 2015.