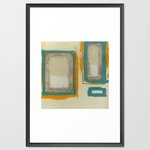 Corbin Henry
I grew up in the same house that Jackson Pollock grew up in, but I didn't know it until long after I was immersed in my artwork career. I was also a fan of his work long before I knew about our shared childhood home. Even before I knew about our shared home, I was inspired by his artwork and created some pieces in his style, as you can see in my collections. I'm a certified Venetian Plaster Artisan, which means I would usually paint the walls of your homes. I took art classes in high school, but because I'm colorblind I didn't pursue art as a career. Now, thanks to the internet, I have a venue to express myself artistically. I love seeing all the wonderful artwork here, it's like walking through a museum without having to find parking. PRESS: Erik Anderson, stylist, designer, blogger: http://www.erik-anderson-design.com/mogblog/2015/10/27/now-trending-copper-accessories-for-home http://designpulp.net/vamp-glam/ http://remodeling.sfgate.com/photos/products/corbin-henry Pinterest: http://www.pinterest.com/corbinhenry/boards/ SaatchiArt Gallery: http://www.saatchiart.com/CorbinHenry Find more made to order designs by Corbin Henry Zazzle: http://www.zazzle.com/progifts Find my home decor collections at: Houzz http://www.houzz.com/pro/corbin-henry/corbin-henry Facebook: https://www.facebook.com/CorbinHenryArt/ Tumbler: https://www.tumblr.com/blog/originalsonlycollection Behance: https://www.behance.net/Corbin_Henry Google+ :https://plus.google.com/u/0/112718585871816232984 Corbin Henry joined Society6 on July 3, 2011
More
I grew up in the same house that Jackson Pollock grew up in, but I didn't know it until long after I was immersed in my artwork career. I was also a fan of his work long before I knew about our shared childhood home. Even before I knew about our shared home, I was inspired by his artwork and created some pieces in his style, as you can see in my collections.
I'm a certified Venetian Plaster Artisan, which means I would usually paint the walls of your homes. I took art classes in high school, but because I'm colorblind I didn't pursue art as a career. Now, thanks to the internet, I have a venue to express myself artistically. I love seeing all the wonderful artwork here, it's like walking through a museum without having to find parking.
PRESS: Erik Anderson, stylist, designer, blogger: http://www.erik-anderson-design.com/mogblog/2015/10/27/now-trending-copper-accessories-for-home
http://designpulp.net/vamp-glam/
http://remodeling.sfgate.com/photos/products/corbin-henry
Pinterest: http://www.pinterest.com/corbinhenry/boards/
SaatchiArt Gallery: http://www.saatchiart.com/CorbinHenry
Find more made to order designs by Corbin Henry Zazzle: http://www.zazzle.com/progifts
Find my home decor collections at: Houzz http://www.houzz.com/pro/corbin-henry/corbin-henry
Facebook: https://www.facebook.com/CorbinHenryArt/
Tumbler: https://www.tumblr.com/blog/originalsonlycollection
Behance: https://www.behance.net/Corbin_Henry
Google+ :https://plus.google.com/u/0/112718585871816232984
Corbin Henry joined Society6 on July 3, 2011.