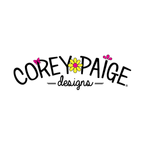 Corey Paige Designs
Corey Paige Designs, Inc. is a line of unique hand-drawn designs that combine bright and colorful imagery, icons, patterns and words to create fun and whimsical art. Since our first Instagram post, Corey Paige Designs has become a viral sensation. The Corey Paige brand translates to virtually any product including apparel, home decor, stationery and gifts. Shop now to get your very own custom Corey Paige product! Check out our website: www.coreypaigedesigns.com Follow us on Instagram: @coreypaige_designs https://www.instagram.com/coreypaige_designs/ Like us on Facebook: www.facebook.com/CoreyPaigeDesigns Corey Paige Designs joined Society6 on September 23, 2014
More
Corey Paige Designs, Inc. is a line of unique hand-drawn designs that combine bright and colorful imagery, icons, patterns and words to create fun and whimsical art. Since our first Instagram post, Corey Paige Designs has become a viral sensation. The Corey Paige brand translates to virtually any product including apparel, home decor, stationery and gifts. Shop now to get your very own custom Corey Paige product!
Check out our website: www.coreypaigedesigns.com
Follow us on Instagram: @coreypaige_designs https://www.instagram.com/coreypaige_designs/
Like us on Facebook: www.facebook.com/CoreyPaigeDesigns
Corey Paige Designs joined Society6 on September 23, 2014.