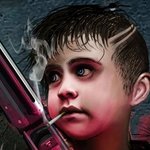 Cormac McCann
My name is Cormac McCann, I currently live and work in Ireland. I started doing commissioned work in 2009. Since then I've been involved in many different projects and in many different areas of production. I'm currently working as a freelancer but I have no problem with in-house work whenever I'm available. My main tools are photoshop with a Wacom Cintiq, I am constantly trying to further my expertise in digital media, and won't stop until I believe I have mastered all the tools I need to fully realize my ideas. I use whatever techniques I can get my hands on to achieve the desired effect and am only happiest when learning new ways of creating different pieces of Art and Graphics. Cormac McCann joined Society6 on July 19, 2011
More
My name is Cormac McCann, I currently live and work in Ireland. I started doing commissioned work in 2009. Since then I've been involved in many different projects and in many different areas of production. I'm currently working as a freelancer but I have no problem with in-house work whenever I'm available.
My main tools are photoshop with a Wacom Cintiq, I am constantly trying to further my expertise in digital media, and won't stop until I believe I have mastered all the tools I need to fully realize my ideas. I use whatever techniques I can get my hands on to achieve the desired effect and am only happiest when learning new ways of creating different pieces of Art and Graphics.
Cormac McCann joined Society6 on July 19, 2011.