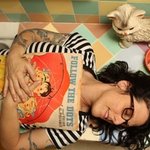 Corrie Gregory
Corrie Gregory's work lives on the border between dreams and nightmares, where chance and control collide. Her art is born out of investigation. Gregory notes, "I believe in the practice of art. Once I have the technical control, I am able to let go and open the process to the possibility of happenstance." She explores Jungian themes from the deep preconscious, themes that have appeared in fables around the world for hundreds of years and which continue to resonate today. Her animals take on human characteristics and her humans, children all, exhibit animal parts, drawing a mystical connection between us and our animal nature. The characters in Gregory's work sprout roots, float in the air, or do both. Her creatures are innocent and perplexed, sly and savvy, or passive and subject to the whims of nature, but never victims of their fate. Gregory also draws inspiration from mid-twentieth century science and medicine as well as her materials. Vintage doctors' prescription pads are the canvas for much of her work. Her drawings on those aging pieces of paper investigate the tension between our ability to rationally know or control and our deeper instinctive knowledge. Gregory makes trouble at her studio in North Hollywood CA, where she lives with her husband Jeff, her dogs Satchel and Max and her garden. www.corriegregory.com Corrie Gregory joined Society6 on April 28, 2015
More
Corrie Gregory's work lives on the border between dreams and nightmares, where chance and control collide. Her art is born out of investigation. Gregory notes, "I believe in the practice of art. Once I have the technical control, I am able to let go and open the process to the possibility of happenstance."
She explores Jungian themes from the deep preconscious, themes that have appeared in fables around the world for hundreds of years and which continue to resonate today. Her animals take on human characteristics and her humans, children all, exhibit animal parts, drawing a mystical connection between us and our animal nature. The characters in Gregory's work sprout roots, float in the air, or do both. Her creatures are innocent and perplexed, sly and savvy, or passive and subject to the whims of nature, but never victims of their fate.
Gregory also draws inspiration from mid-twentieth century science and medicine as well as her materials. Vintage doctors' prescription pads are the canvas for much of her work. Her drawings on those aging pieces of paper investigate the tension between our ability to rationally know or control and our deeper instinctive knowledge.
Gregory makes trouble at her studio in North Hollywood CA, where she lives with her husband Jeff, her dogs Satchel and Max and her garden.
www.corriegregory.com
Corrie Gregory joined Society6 on April 28, 2015.
Corrie Gregory 's Store
2 results
Filter