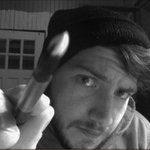 Cory Amons
I am the story teller… The fundamental aspect of my work is telling stories through a visual narrative. Either through my comics or illustrations my work explores themes of pop culture, shamanic archetypes, and current social/political landscape. I'm often inspired and enraged by the environment of the modern era. A lot work I create trying to tell either the struggles individual or the abuse of powers by the elite or religious moral. The work I create is constructive with cross cultural influences from religious/folklore iconography while connecting multiple means to the imagery. What I consider the process of the creating my work as constructional. First would be the idea or story, then how do I want to tell the direction of the narration of the work. The same story can be told 1,000 different ways and be perceived from a 1,000 different other perceptions. Something I try to keep in mind when choosing imagery for my work. Every image has a meaning, some similar or different depending on where in the world and culture you're from. "Everything is connected" is what one of history professors would say. As I am student of religion, phycology , and culture. I believe my true medium as an artist is story. Cory Amons joined Society6 on April 9, 2014
More
I am the story teller… The fundamental aspect of my work is telling stories through a visual narrative. Either through my comics or illustrations my work explores themes of pop culture, shamanic archetypes, and current social/political landscape. I'm often inspired and enraged by the environment of the modern era. A lot work I create trying to tell either the struggles individual or the abuse of powers by the elite or religious moral. The work I create is constructive with cross cultural influences from religious/folklore iconography while connecting multiple means to the imagery.
What I consider the process of the creating my work as constructional. First would be the idea or story, then how do I want to tell the direction of the narration of the work. The same story can be told 1,000 different ways and be perceived from a 1,000 different other perceptions. Something I try to keep in mind when choosing imagery for my work. Every image has a meaning, some similar or different depending on where in the world and culture you're from. "Everything is connected" is what one of history professors would say. As I am student of religion, phycology , and culture. I believe my true medium as an artist is story.
Cory Amons joined Society6 on April 9, 2014.