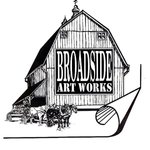 BROADSIDE ART WORKS
Courtney Allen, founder of Broadside Art Works, is a graphic designer illustrator living in Loudoun County Virginia. He was born in Royal Oak Michigan 1956 and has spent most of his life in Northern Virginia. His BFA in Graphic Design was received from West Virginia University Creative Arts Center 1980. Prior to that he attended the Corcoran School of Art in Washington DC, studying art and design. He has spent the better part of his adult life working in the Northern Virginia area as a graphic artist. He has had artwork viewed by presidents and art that has been in outer space. www.broadsideartworks.com BROADSIDE ART WORKS joined Society6 on August 16, 2012
More
Courtney Allen, founder of Broadside Art Works, is a graphic designer illustrator living in Loudoun County Virginia. He was born in Royal Oak Michigan 1956 and has spent most of his life in Northern Virginia. His BFA in Graphic Design was received from West Virginia University Creative Arts Center 1980. Prior to that he attended the Corcoran School of Art in Washington DC, studying art and design. He has spent the better part of his adult life working in the Northern Virginia area as a graphic artist. He has had artwork viewed by presidents and art that has been in outer space.
www.broadsideartworks.com
BROADSIDE ART WORKS joined Society6 on August 16, 2012.