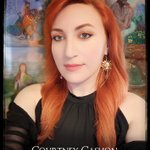 CourtneyCashon
Courtney currently lives in her hometown of the Rocket City, Huntsville, Alabama, with her fiancé Zach and their two dogs, Kali and Pumpkin. She is an Illustration major from The Savannah College of Art & Design.
Since a young age, Courtney has been interested in mysteries, magic, symbolism, and the fascinating inner workings of our reality. Her work is influenced by subjects like powerful women and witches, ancient Egypt, druids, mythology, the Victorian era, and the macabre.
With her love of drawing, she typically sketches each image in a sketchbook before working them in either watercolor, color pencil, or digital mediums. Her preferred medium is a mixture of digital media, graphite, color pencil, and watercolor.
You can follow Courtney on Instagram to find her current work, promotions, and shop details @courtneycashon. She can also be reached by email at courtneycashon@gmail.com. (Please email only, thank you!--no DMs, please. 🖤)
Read more