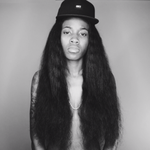 Cr38bySunBlaze
Hello, I'm Sun Blaze and I'm 23 years old. I wouldn't just label myself as a "painter", but more so an all around artist. I say this because there is so much more to Sun Blaze than solely painting. I am a music artist, basketball player, digital artist, model, photographer, & I love dance, just to name a few. Ever since a young age, I've always had an urge to create. I would sit in my room with my toys for hours & create a different World. Growing up as an "army brat" I'd always move to a different state/base, and traveling became a normal routine. By traveling A LOT, I'd get inspired to create from just about anything. I appreciate everything and everything is art. When any one views my art, I want them to feel inspired to create from their level of being. I want viewers to feel enlightened as well as free when they see my art. I want everyone to unleash the artist within, because we are all artists if you think about it. It's all about how you express yourself, & I'd say that I express myself in a pretty dope way. Lol. Thank you all for your support. Love & Light, Sun Blaze Cr38bySunBlaze joined Society6 on August 22, 2015
More
Hello, I'm Sun Blaze and I'm 23 years old. I wouldn't just label myself as a "painter", but more so an all around artist. I say this because there is so much more to Sun Blaze than solely painting. I am a music artist, basketball player, digital artist, model, photographer, & I love dance, just to name a few. Ever since a young age, I've always had an urge to create. I would sit in my room with my toys for hours & create a different World. Growing up as an "army brat" I'd always move to a different state/base, and traveling became a normal routine. By traveling A LOT, I'd get inspired to create from just about anything. I appreciate everything and everything is art.
When any one views my art, I want them to feel inspired to create from their level of being. I want viewers to feel enlightened as well as free when they see my art. I want everyone to unleash the artist within, because we are all artists if you think about it. It's all about how you express yourself, & I'd say that I express myself in a pretty dope way. Lol.
Thank you all for your support. Love & Light, Sun Blaze
Cr38bySunBlaze joined Society6 on August 22, 2015.