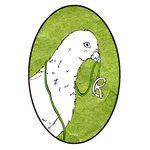 CraftPigeon
I love to create. My passion lies in the realm of fine craft and I have an insatiable drive to make beautiful objects. I am a professional jeweller, but have never been able to fully commit myself to only one form of expression. I have also discovered the wonderful and traditional craft of hand weaving as well as continuously honing my drawing skills to a point where I feel I have finally discovered my own distinctive style. And though three creative outlets may seem like enough I also have a love of photography. Designs: My first artistic expression was through drawing, and this mode of creation continues to be a constant thread running through my creative career. My drawings are currently focused on meticulously crafted geometric designs. Many of these illustrations feature tidy symmetrical forms interacting with organic elements. This contrast between two styles is brought into harmony through the use of colour and negative space; resulting in unique and beautiful works of art. Photographs: My pursuit of photography arises from two sources. The first is the necessity to take detailed and high quality photos of my jewellery and weaving work, and the second is a general love for capturing moments in the world around me. The first reason is self-explanatory; I must take excellent photos of my works so that when customers are looking to make a purchase over my website they have a clear idea of how the product looks before they buy it. Some of these 'work photos' (especially of my woven pieces) are themselves works of art. The striking patterns and appealing textures captured in the photos prompted me to make some of them available for purchase. My second interest in photography goes hand-in-hand with my appetite for exploration. These photos are from my wanderings both near and far; giving you a glimpse into how I see the world. My jewellery and weaving work are for sale over my website: www.robynchamberlain.com You can also follow me on: Facebook: https://www.facebook.com/craftpigeon/ Tumblr: http://craftpigeon.tumblr.com/ Instagram: https://www.instagram.com/craftpigeon/ Pinterest: https://de.pinterest.com/craftpigeon/ Thank you for your interest in my work! CraftPigeon joined Society6 on September 26, 2016
More
I love to create.
My passion lies in the realm of fine craft and I have an insatiable drive to make beautiful objects. I am a professional jeweller, but have never been able to fully commit myself to only one form of expression. I have also discovered the wonderful and traditional craft of hand weaving as well as continuously honing my drawing skills to a point where I feel I have finally discovered my own distinctive style. And though three creative outlets may seem like enough I also have a love of photography.
Designs: My first artistic expression was through drawing, and this mode of creation continues to be a constant thread running through my creative career. My drawings are currently focused on meticulously crafted geometric designs. Many of these illustrations feature tidy symmetrical forms interacting with organic elements. This contrast between two styles is brought into harmony through the use of colour and negative space; resulting in unique and beautiful works of art.
Photographs: My pursuit of photography arises from two sources. The first is the necessity to take detailed and high quality photos of my jewellery and weaving work, and the second is a general love for capturing moments in the world around me. The first reason is self-explanatory; I must take excellent photos of my works so that when customers are looking to make a purchase over my website they have a clear idea of how the product looks before they buy it. Some of these 'work photos' (especially of my woven pieces) are themselves works of art. The striking patterns and appealing textures captured in the photos prompted me to make some of them available for purchase. My second interest in photography goes hand-in-hand with my appetite for exploration. These photos are from my wanderings both near and far; giving you a glimpse into how I see the world.
My jewellery and weaving work are for sale over my website: www.robynchamberlain.com
You can also follow me on:
Facebook: https://www.facebook.com/craftpigeon/ Tumblr: http://craftpigeon.tumblr.com/ Instagram: https://www.instagram.com/craftpigeon/ Pinterest: https://de.pinterest.com/craftpigeon/
Thank you for your interest in my work!
CraftPigeon joined Society6 on September 26, 2016.