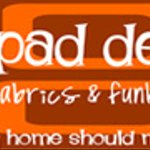 Crash Pad Designs
Inspired by my new home, an obsession with mid century culture and design, and my 1963 Philco electric oven. I created Crash Pad Designs ,because coming home should make you smile.. I believe that eco friendly, doesn't have to be beige and boring. My original mod fabrics are bold, fun, functional and eco friendly. Hope I can make you smile.
Read more
Crash Pad Designs's Store
Filter
You are currently on society6.com.