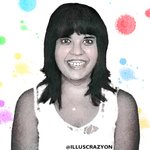 illuscrazyon
¡¡Hola!! ¿Cómo estáis? My name is María Jesús but my friends called me MJ and I am from Madrid, Spain. When I was a child I was drawing all the day but you know, when you become older you don´t have time to do the things you should did when you were a kid. I decided to get again this hobby and I decided too learn digital draw by myself with a wacom. Thanks to #DrawingAlong (a great idea of two of my twitter followers, each month each day you must draw the subject of the day) I´ve been drawing four months and now we got #DrawingAlongSummer so you decide what you want to draw and if I don´t draw one day or one week, I will be climbing the walls missing my wacom, sure. When I am working with my music, my wacom and photoshop (before, I worked with Art Rage app) I disconnect of the world. After drawing a year and a half ago, finally I get it!! Yeah!! I finally connected with my child draw style and now I can do my own draws with my own style and technique and I am so HAPPY!! I will do caricatures cause somepeople say that I got talent, what do u think? keep on working!! Hope you like my digital draws and I accept each review to help me to draw better illuscrazyon joined Society6 on April 6, 2015
More
¡¡Hola!! ¿Cómo estáis? My name is María Jesús but my friends called me MJ and I am from Madrid, Spain. When I was a child I was drawing all the day but you know, when you become older you don´t have time to do the things you should did when you were a kid. I decided to get again this hobby and I decided too learn digital draw by myself with a wacom.
Thanks to #DrawingAlong (a great idea of two of my twitter followers, each month each day you must draw the subject of the day) I´ve been drawing four months and now we got #DrawingAlongSummer so you decide what you want to draw and if I don´t draw one day or one week, I will be climbing the walls missing my wacom, sure.
When I am working with my music, my wacom and photoshop (before, I worked with Art Rage app) I disconnect of the world.
After drawing a year and a half ago, finally I get it!! Yeah!! I finally connected with my child draw style and now I can do my own draws with my own style and technique and I am so HAPPY!! I will do caricatures cause somepeople say that I got talent, what do u think? keep on working!!
Hope you like my digital draws and I accept each review to help me to draw better
illuscrazyon joined Society6 on April 6, 2015.