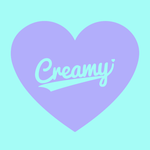 Creamy Pop
Creamy is a brand that combines multiple cultures and periods among the years. It's mainly inspired in 80's and 90's decades mixing our favorite pastel/neon colors, japanese fairy kei style and american pop culture. The goal for Creamy is to bring back the magic in your eyes when you were a little girl, all those things we loved as a girls that are hiding in the deepest of our memories due to the years, let's remember the cuteness we all loved to play with. Scream to the world who you really are! Be always Creamy ♥ Creamy Pop joined Society6 on November 25, 2014
More
Creamy is a brand that combines multiple cultures and periods among the years. It's mainly inspired in 80's and 90's decades mixing our favorite pastel/neon colors, japanese fairy kei style and american pop culture.
The goal for Creamy is to bring back the magic in your eyes when you were a little girl, all those things we loved as a girls that are hiding in the deepest of our memories due to the years, let's remember the cuteness we all loved to play with. Scream to the world who you really are!
Be always Creamy ♥
Creamy Pop joined Society6 on November 25, 2014.
Creamy Pop's Store
49 results
Filter