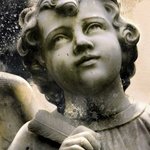 Kinga Baransky
Born in Walbrzych, Poland, I landed in the US via NYC. Recently, I have been exploring muted, simple palettes. My latest obsession is photography and transforming my photos into Grim tales I hope to tell my future grandkids. When I do sling paint, I work primarily in acrylics, but my distracted mind enjoys working with oil, mixed media, wood, paper, plaster and found objects. Kinga Baransky joined Society6 on May 28, 2014
More
Born in Walbrzych, Poland, I landed in the US via NYC. Recently, I have been exploring muted, simple palettes. My latest obsession is photography and transforming my photos into Grim tales I hope to tell my future grandkids.
When I do sling paint, I work primarily in acrylics, but my distracted mind enjoys working with oil, mixed media, wood, paper, plaster and found objects.
Kinga Baransky joined Society6 on May 28, 2014.
Kinga Baransky's Store
26 results
Filter